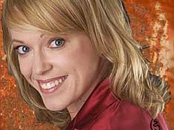 All 7 Week Days -- 07:00 PM - 11:59 PM
Lia was born and raised in the great state of Kentucky and the youngest of four children. Though she grew up surrounded by country music in her house, the car and her dad's bar, she spent most of her teen years listening to rock music, developing an obsession for Pink Floyd. She remembers having music wars with her dad cranking up "He Stopped Loving Her Today" to try to drown out "Comfortably Numb."
When Lia was 15 her dad passed away, and she left everything she knew to live with her big sister. At 17 she finished school and moved out on her own, then went to college with no idea what she wanted to do with her life. Purely by accident, she got into country music. She believes her dad teamed up with God to make that happen.
When she started The Lia Show she had no clue it would be something she'd do for years. She hoped that people would listen and occasionally call – they did and they still do.
In her spare time, Lia plays word games, mind games and locks herself in the bathroom for five minutes of peace at least once a day. She also never talks on the phone when she's not at work, possibly because she does it every night for hours. Lia and her family have three dogs and spend as much spare time as they can on their boat, even on holidays.